KDC Attention Lab lends parents of child with EMB mobile bed tent
Maud Halkes is one of the founders of KinderDagCentrum (KDC) AandachtsLab in Rijswijk. A small-scale KDC that focuses on children with a severe multiple handicap (EMB). All nine children and their parents can use the CloudCuddle, which the center received free of charge through a donation from the Rotary Delft. "The bed tent gives families much more freedom of movement. That is so important, especially for these families," says Maud.
Maud and her husband Seth have four children. The youngest, Suus, has, according to her parents, "the syndrome of laughter. So Suus is a cheerful child. But because of a severe multiple handicap (EMB) she cannot walk or talk, among other things. To offer her daughter the best possible opportunities and to stimulate her development optimally, Maud, together with others, founded KDC AandachtsLab in Rijswijk a few years ago. Here there is sufficient time and attention to offer the children specialist supervision.
More intensive guidance for children with EMB
"Because of the small scale, we have less overhead. And the overhead that is there is done on a voluntary basis. This way, a larger part of the care budget goes directly to supervising the children. The positive result is one supervisor for every two children instead of one for every four to six children. We also do a lot of fundraising and receive donations for renovations and the purchase of disability-specific aids. We want to realize a therapeutic swimming pool in 2021. The building permit has already been submitted," Maud explains in a down-to-earth tone. She was recently reappointed as chairman of the board of the KDC. It is easy to understand why.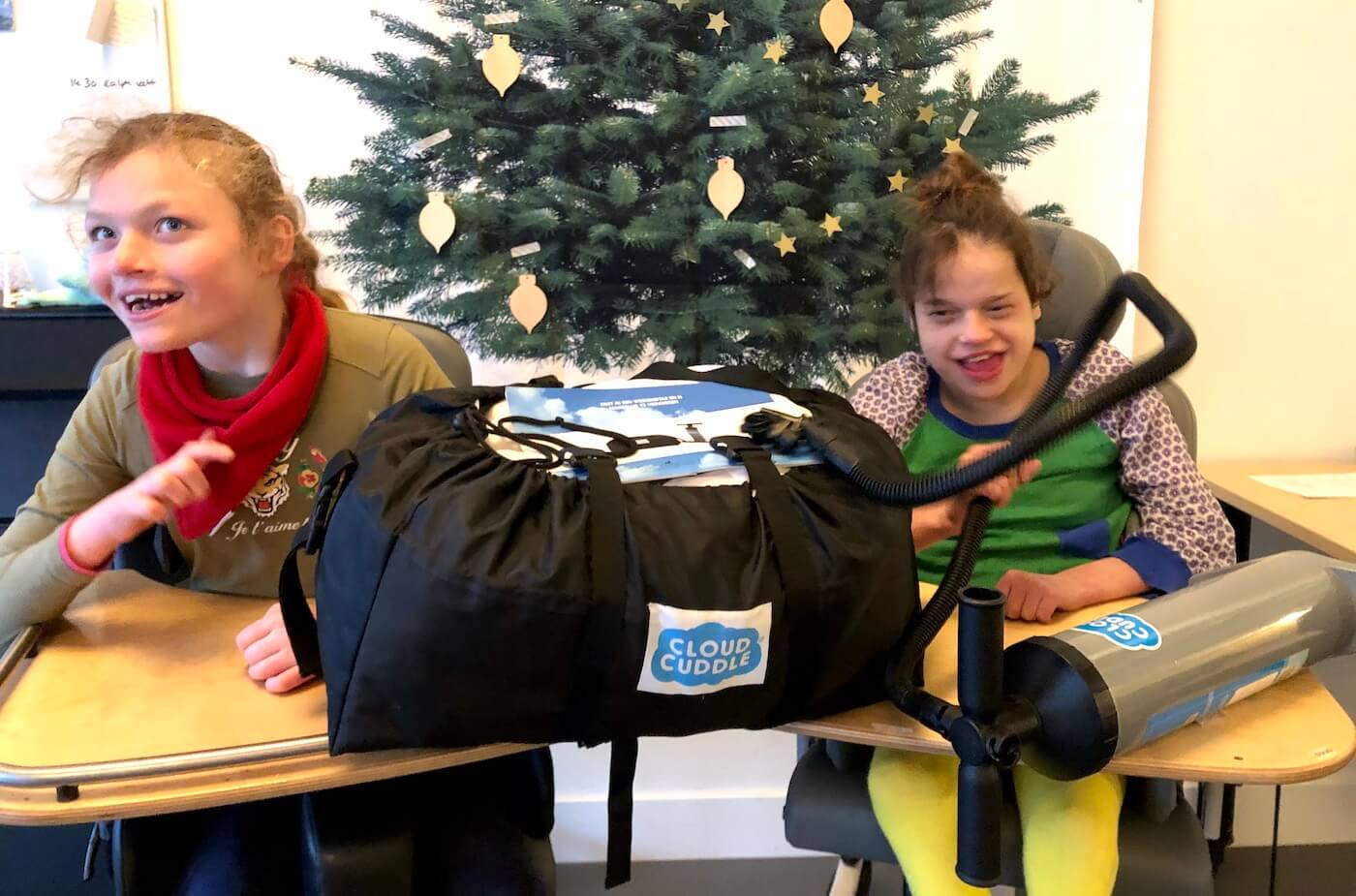 More freedom of movement for child with EMB thanks to mobile bed tent
Maud has known CloudCuddle for a number of years. She was involved in the development of the mobile bed tent during the test phase. When the first version went into production, two Rotary Clubs in Delft donated a copy which can now be used by all parents of children at KDC AandachtsLab. Maud: "The experiences are positive. You have to consider that these families are very limited in their ability to go away for the weekend, to have a short vacation or to have their child with a severe multiple handicap stay elsewhere. The CloudCuddle gives them great freedom of movement because it can be used anywhere. As a parent of a child with EMB, you are used to taking a lot of stuff with you when you go somewhere. The bed tent is compact, lightweight and can be used anywhere. That makes it easy to take with you."
Try out bed tent for now or for the future
At KDC Attention Lab, it is arranged that the CloudCuddle can be borrowed on an occasional basis. Parents are given the manual and washing instructions "One of the children goes to stay on a set day each week. These parents have since purchased their own CloudCuddle based on their positive experiences", explains Maud. Until now, it has not occurred to two families to need the available bed tent at the same time. However, KDC AandachtsLab has recently welcomed a number of new children, so it is quite possible that their parents will also want to gain experience and that some more coordination will be necessary.
"Some children are still too small for a single mattress. For them, the bed tent is not yet necessary. But it is useful to be able to try out this tool for the future. There are cheaper portable bed tents for sale. However, these cannot offer the safety of a CloudCuddle (CloudCuddle is a CE-certified medical aid, ed.) and they are often heavier and larger," is Maud's experience. "It is unfortunate that municipalities rarely reimburse the bed tent as part of the WMO. It gives families with a child with EMB a bit of freedom back."
Despite child with EMB taking the whole family on vacation with bed tent
And what does the CloudCuddle mean for her own family? "We like to go on vacation with the whole family and that of course includes Suus. It's quite an undertaking with Suus there – we take half a truckload of food, diapers and tools with us. But it's definitely worth it, because once we're there, it's nice to be able to celebrate vacations together. The CloudCuddle makes it possible for us to enjoy ourselves with the whole family, wherever they are.
Would you like to try out a CloudCuddle yourself? You can. We would love to hear about your experiences.