On vacation with a disabled child
Going on vacation with a disabled child requires more planning and preparation from you as a parent. You will probably also have to take all kinds of extra things with you. One of the things you will have to pay attention to is finding a suitable place for your child to sleep. On the road and at your destination. If your son or daughter sleeps well, it will give you more peace of mind as a parent and you will be able to enjoy your vacation more.
A short break with the whole family
Despite the coronavirus, many parents are making plans to go away with the whole family. Most families now like to stay close to home. You might even consider going on a trip with a tent or a caravan. That does require some improvisation if one of the children is disabled and sleeps in a bed box at home. Because of course you can't take that with you. How can you still go camping together for a week?
Camping with a handicapped child
We have heard from various parents that the CloudCuddle is very useful when camping. We have asked two families to share their experiences. Read about their experiences elsewhere on this site. One family has had experience camping in a tent, the other has used the bed tent in a caravan.
In the weekend bag
The camping bed gives families more freedom to visit places where they otherwise could not easily go together. You can easily take the CloudCuddle with you in the car. In total, the camping bed weighs 5.2 kilos. When folded, the CloudCuddle fits into an overnight bag, for which you will always find a space in the trunk.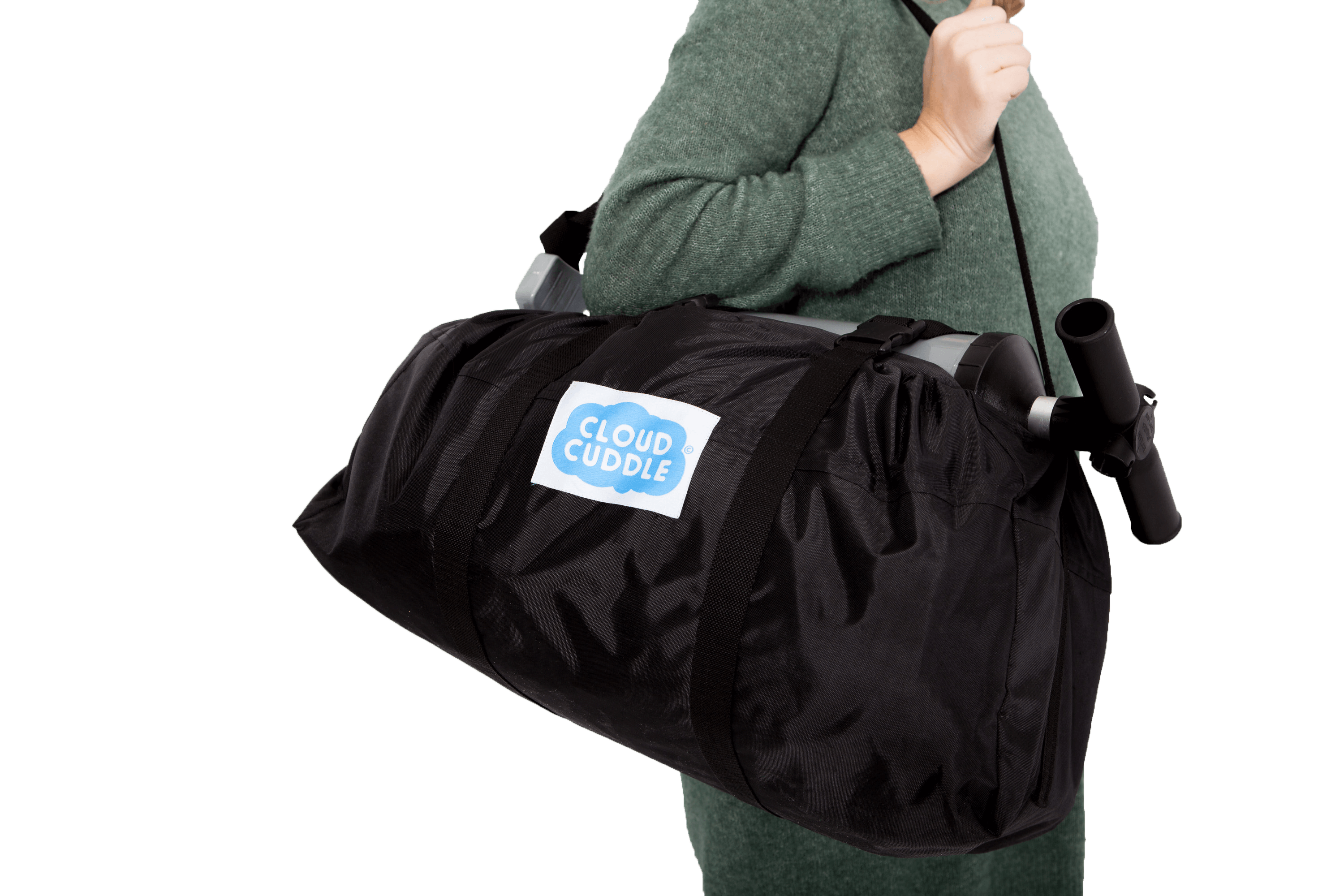 Careful with airbed
Every child is different. And every disability requires certain adaptations. Therefore, it is impossible to predict in advance what the bed tent can do for your family. You may be planning to let your child sleep on an air mattress when camping. Whether this will provide sufficient safety depends on your child's behavior. This is because the air mattress must be heavy and wide enough. For this reason, we do not recommend the use of an air mattress in principle, particularly with very mobile children. Rather use the CloudCuddle in combination with a good 1-person mattress. CloudCuddle is a CE-certified medical device. This requires that it be used as intended.
Long-term pleasure from bed tent
Just as you fold an ordinary tent dry to keep it in the attic until the next vacation, it is also important that the CloudCuddle remains dry when camping. A waterproof tent which you can ventilate well is therefore a requirement. (And so comfortable!) If the CloudCuddle becomes damp, you will not enjoy it as long, just as with an ordinary tent. You don't want to get "the weather" in that either. Therefore, ensure that the space in which you use the CloudCuddle is sufficiently ventilated. If necessary, leave the CloudCuddle outside on a sunny, dry day.
Try it out before going on vacation with a disabled child
We can well imagine that you first want to be more certain about using the CloudCuddle in a tent or caravan. Are you considering a family vacation and would you like to know whether the bed tent is also suitable for your handicapped child? Try out the CloudCuddle for a weekend or rent one. We would love to hear about your experiences.
Prefer to go on vacation in a house
Do you think that a holiday home would suit your family better? Fortunately, the range of options is constantly expanding. Take a look at Parc de la Brenne in France for example. Several parents have already spent their vacations there with a CloudCuddle. Do you prefer to stay closer to home? Then it might be good to know that Villa Pardoes and Ronald Mc Donaldhuis in Arnhem have a CloudCuddle available for their guests. If you book a stay there, you can immediately try out the bed tent!