Bedtent CloudCuddle: device for disabled children
inflatable – super robust – easy to install
Bedtent for disabled children
CloudCuddle's portable bed tent is a solution for families with a disabled child. The bed tent is compact and lightweight. Folded up, the CloudCuddle fits in a weekend bag. Super handy for a weekend away, a night out, or on holiday. There is always room for the CloudCuddle bag. You take this lightweight bed tent with you in the boot of your car. The lightweight bed tent is made in such a way that children with a disability can sleep safely anywhere. You set up the CloudCuddle easily and you don't need a special bed. Every single bed turns into a safe bed in five minutes.
Super solid frame bed tent absorbs all impact
The frame of the CloudCuddle is very sturdy and effortlessly catches all the blows. Children who have a tendency to bump against their bed often become calm with a CloudCuddle. After all, there is little noise compared to a bed box or bed rail. Less noise means fewer stimuli and most children become calmer as a result. Moreover, more quiet in the house promotes a good night's sleep for all family members. One of our clients sent a video to illustrate this.
The bed tent is a comfortable place to sleep
Children lie safely in this bed tent. They feel safe in a CloudCuddle. The design is friendly and the enclosed space gives an extra safe feeling. This is reinforced by the use of soft and comfortable fabrics. Parents can go to sleep with peace of mind in the certainty that their child cannot crawl or fall out of bed and cannot hurt themselves.
Transparent fabric ensures open communication through the bed tent
The transparent fabric of the CloudCuddle bed tent ensures open communication. This makes children feel extra at ease. Parents can also easily keep an eye on them when they use a camera, for example.
Bed tent also suitable for hospitals
Parents also use the CloudCuddle if they want to book an extra night at a carecentre when all the care cots are occupied. The bed tent is also helpful if children have to go to hospital. CloudCuddle fits on a hospital bed, making it easier to care for children. Parents and caregivers, for example, do not have to sit non-stop next to the bed to prevent a child from falling out of bed. Children no longer have to lay on a mattress on the floor to keep them safe. A single bed with mattress is all you need on location. With a CloudCuddle you can make a safe place to sleep for your son or daughter in no time. Discover the possibilities and read the experiences of parents and carers.
Retreat during the day
Even during the day, children like to retreat inside their CloudCuddle. Maybe they want to be alone for a while, or listen to a story while lying in their safe cocoon. Be careful no to damage netting (for instance with your shoes).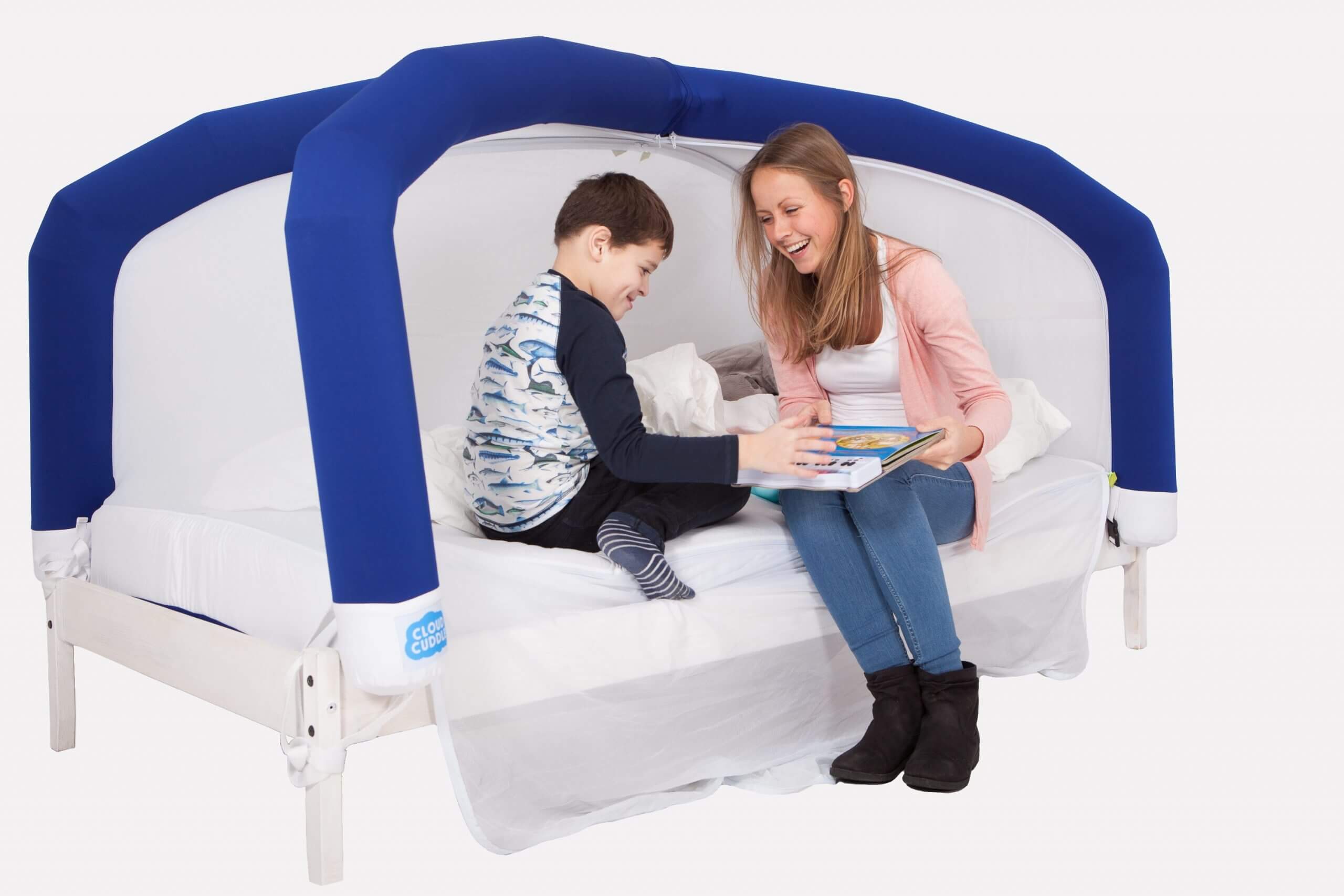 Pink Cloudcuddle out of stock
Blue is for boys and pink for girls…? Of course, that is by no means the case for everyone. The limited edition pink CloudCuddles is unfortunately sold out and no longer available. We will let you know when we add it back to the assortment.