How to use the CloudCuddle bed tent?
Use: installation and dismantling
The CloudCuddle bed tent is really very easy to use. First you attach the bed tent to the mattress and the bed. Then you pump up the tent. In just five minutes you can create a safe bed anywhere. The dismantling and tidying up is also a piece of cake. You let the air out, take the cover off the mattress, roll everything together and put the CloudCuddle in the bag. After five minutes everything is cleaned up. Watch the videos below for an extra explanation on how to set up and tidy up the CloudCuddle.
The CloudCuddle must stand completely free on a bed and may NOT be sandwiched between bed rails or bounded at the top. There must be room for its full outer size 200 (l) x 110 (w) x 105 (h) cm.
CloudCuddle bed tent installation and dismantling
Manual bed tent CloudCuddle
This manual is online available in 4 languages. Dutch, German, English and French. For environmental reasons we only have limited printed copies.
Urlaub mit behindertem Kind
Sie können nicht in den Urlaub fahren, weil Ihr Kind ein Sicherheitsbett benötig? Das CloudCuddle bietet ähnlichen Schutz. Dadurch sind Sie weniger von den Einrichtungen an Ihrer Ferienadresse abhängig. Überall, wo es ein Standard-Einzelbett mit einer Matratze in der Größe 90 x 200 x 16 cm gibt, kann Ihr Kind im CloudCuddle-Bettzelt sicher schlafen.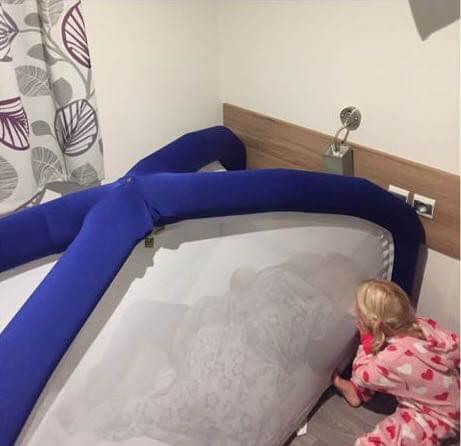 Bettzelt schützt Kinder im Krankenhaus
Das CloudCuddle passt auf viele höhenverstellbare Betten und auch auf Krankenhausbetten. Dadurch wird ein Krankenhausaufenthalt viel einfacher. Das behinderte Kind liegt sicher und kann bequem betreut werden. Sie brauchen nicht mit Ihrem Kind auf einer Matratze auf dem Fußboden zu schlafen oder sich rund um die Uhr neben das Bett zu setzen.