How to use the CloudCuddle bed tent?
Use: installation and dismantling
The CloudCuddle bed tent is really very easy to use. First you attach the bed tent to the mattress and the bed. Then you pump up the tent. In just five minutes you can create a safe bed anywhere. The dismantling and tidying up is also a piece of cake. You let the air out, take the cover off the mattress, roll everything together and put the CloudCuddle in the bag. After five minutes everything is cleaned up. Watch the videos below for an extra explanation on how to set up and tidy up the CloudCuddle.
The CloudCuddle must stand completely free on a bed and may NOT be sandwiched between bed rails or bounded at the top. There must be room for its full outer size 200 (l) x 110 (w) x 105 (h) cm.
CloudCuddle bed tent installation
CloudCuddle bed tent dismantling
Washing the CloudCuddle
Manual bed tent CloudCuddle
This manual is online available in 4 languages. Dutch, German, English and French. For environmental reasons we only have limited printed copies.
Holidays or staying over with friends and family with a disabled child?
Homebound because your child sleeps in a care cot? CloudCuddle offers similar protection. You are less dependent on facilities at your holiday address. You can go wherever there is a single bed with a standard mattress (90 x 200 x 16).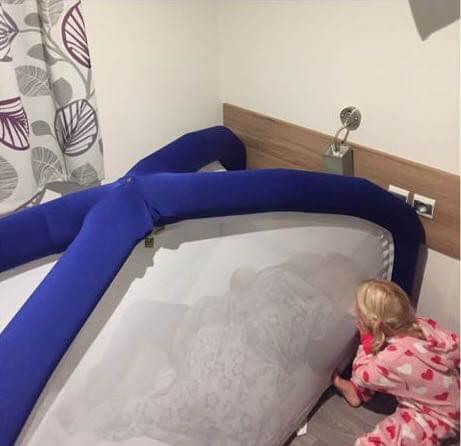 Disabled child in hospital
CloudCuddle fits on many high-low beds and also on a hospital bed. That makes hospital care so much easier. Children are completely safe and can be cared for comfortably. Sleeping with your child on a mattress on the floor or sitting next to the bed 24/7 to make sure nothing happens? That's not necessary with a CloudCuddle.