CloudCuddle bed tent in combination with mobile patient elevator
Do you use a hoist at home to put your child to bed? Then take a look at the short demonstration videos about using a CloudCuddle bed tent in combination with a mobile hoist or a ceiling hoist below. Would you first like to know more about the advantages and disadvantages of a (mobile) hoist? For example, because you are considering purchasing one? Then read the entire article below.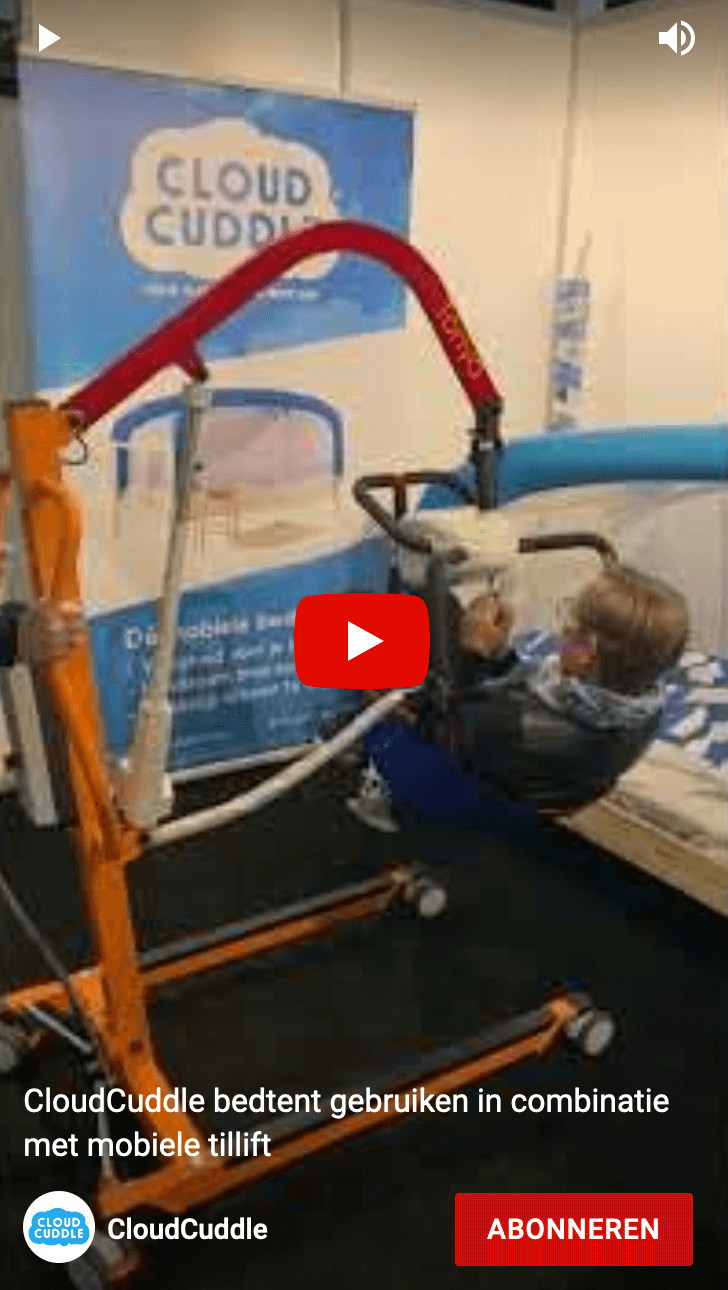 As your child grows and gets bigger and heavier, at some point you probably won't be able to lift them up on your own to put them to bed. That's when it's time for assistive devices like a hoist. These are specially designed to move people with physical disabilities to and from bed and to and from the toilet.
Mobile patient elevator or ceiling lift
Elevators are designed to prevent physical strain and injury to you as a caregiver and to caregivers. There are roughly two systems of patient elevators: mobile (or mobile) patient elevators and ceiling-mounted elevators.
Today, all elevators are electrically assisted; in the past, people sometimes called a manual elevator "the steel nurse. Fortunately, much has been improved in terms of lifting technology and you no longer need to manually turn the seat up…
Combination of CloudCuddle and mobile patient lift
A mobile patient elevator is mobile. In theory, you can therefore wheel it anywhere in the house. In practice, it is important for safety and for the load that you have a smooth floor and that you do not have to cross any thresholds when moving the mobile hoist. For an easy turning radius, it is recommended to have at least 1.75 m space to maneuver.
We have tested the CloudCuddle with LevareCura's Tonya hoist and with Joyincare's Powermove. See the links below for videos with a short impression:
CloudCuddle with Tonya hoist
CloudCuddle with Powermove
Own body strength
The mobile patient elevators for home use are generally movable with the help of your own body strength. Moving a mobile hoist is therefore quite physically demanding. Of course, this depends on the weight of your child and your own physical condition.
Electric mobile elevators are generally used more in institutions; you don't see them used very often for home use. This undoubtedly has to do with the price. In addition, you will need to develop dexterity to use them correctly.
Technical building modifications
A ceiling system is, of course, quite an intervention in the home and requires structural modifications. The construction must be strong enough to bear the weight. The disadvantage of a ceiling elevator is that you can only use it at that location. The advantage is that you can easily 'hang' the elevator in a corner of the room. This leaves more walking space in the room where the ceiling elevator is used.
Combination of ceiling elevator and bed tent
Are you considering purchasing a ceiling elevator or do you already have a ceiling elevator at home and would like to see how you can use it with a bed tent? Then watch the video in which family Van Kempen demonstrates how they use the CloudCuddle bed tent in combination with a ceiling elevator.
Combination with CloudCuddle
There are several providers of mobile and ceiling elevators, including foldable mobile elevators. So, just like the CloudCuddle, you can take it with you wherever you go – provided you have enough room in the car, of course.
Be well informed when purchasing a patient elevator. Now you know in any case that you can combine it with the use of a CloudCuddle bed tent. This gives you more options and more freedom to sleep elsewhere with your child.
Do you have a patient elevator at home and would you like to try out whether you can combine it with the CloudCuddle? Then contact us for a trial weekend or rent a CloudCuddle for a slightly longer period.