Here's how to fund an assistive device for your disabled child
Purchasing a tool like a CloudCuddle is quite an expense. Not everyone shakes the required amount out of an old sock at once. Yet there are several options to make the purchase of this tool for your disabled child possible. Below we have listed the ways you can (also) finance the purchase.
Approach the municipality
More and more municipalities provide compensation for the purchase of a CloudCuddle under the WMO. Each application is handled on its own merits. If a municipality has provided compensation once, this does not automatically mean that they will also approve a subsequent application. To help you with your request, we have prepared a sample letter with various arguments. You can find it under 'frequently asked questions'. Sometimes a municipality will make a contribution from another fund, such as special assistance. Read how Anita got part of her costs reimbursed by the municipality.
Writing to funds
There are many different funds in the Netherlands. Here you can also apply for reimbursement of your purchase. With funds that focus on care families and children with disabilities, you may have a chance at reimbursement in the form of a one-time gift. Read how Nuri's mother managed to do this.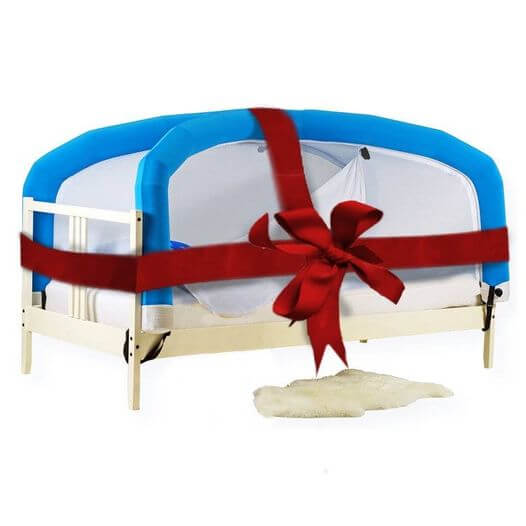 Purchasing together
You may know other parents with a disabled child who will also benefit from a CloudCuddle. Ask them if you can purchase one together and rotate the tool over the course of the year. This can be a good option, especially if you only want to use the bed tent for sleepovers and weekends away.
Tip: make proper arrangements in advance about who will safekeep the CloudCuddle, how you will act if you want to use the aid at the same time, or if the bed tent is damaged and repair costs may need to be incurred.

Sharing, of course, fits right in with the current sharing economy! If you would like to share the CloudCuddle with more people, you could also use a platform such as Peerby.

Rental
If you only need the CloudCuddle for a limited number of days each year, you may also want to consider renting this tool for your disabled child instead of purchasing it. Read about the prices and options for renting a CloudCuddle here.
Crowdfunding
You'll be amazed at how eager people in your immediate community are to do something for your family. Sometimes they do not know how they can do something for you from the sidelines. Especially if, due to the disability of your child, it is not or hardly possible for them to take over care of you.
A beautiful and effective way to help your family is to organize a crowdfunding campaign for you. Friends, colleagues or family members can do this for you out of love and solidarity. Read how friends of Karen realized this.
Then, of course, your follow-up question is: how do I sympathetically encourage my family members or friends to do such an action? Start by telling them about CloudCuddle. And let others see this website!
Asking as a gift
As mentioned, people like to do something for someone else. Also for your family. So why not just ask for what you need? You can ask for 'a piece' of CloudCuddle for your birthday, for your child's birthday or for all birthdays in this year. And maybe you're celebrating an anniversary at work or in your private life. For that, you can also ask for a contribution to the cost of the purchase.
Many people would rather give something useful than another bottle of wine or a bunch of flowers! Especially if they know that the purchase of a CloudCuddle will greatly benefit your family.
Donation by (grand)parents
Did you know that it can be interesting from a tax perspective if parents or grandparents make a donation during their lifetime? You then have to pay less inheritance tax. If you are in the fortunate circumstance that your parents or grandparents have a little more room for manoeuvre, then this can also be an opportunity to finance a CloudCuddle.
Grandparents can donate to the children and/or to the grandchildren. Read more about the possibilities of tax-free gifts.
Do you benefit from any of the above opportunities? We'd love to hear from you! Also if you have financed the purchase of a CloudCuddle in some other way!